Welcome to WILDNorth's 2022 WILD Wine Survivor! 
Are you ready to win A LOT of wine?! 
TO FOLLOW ALONG, CLICK HERE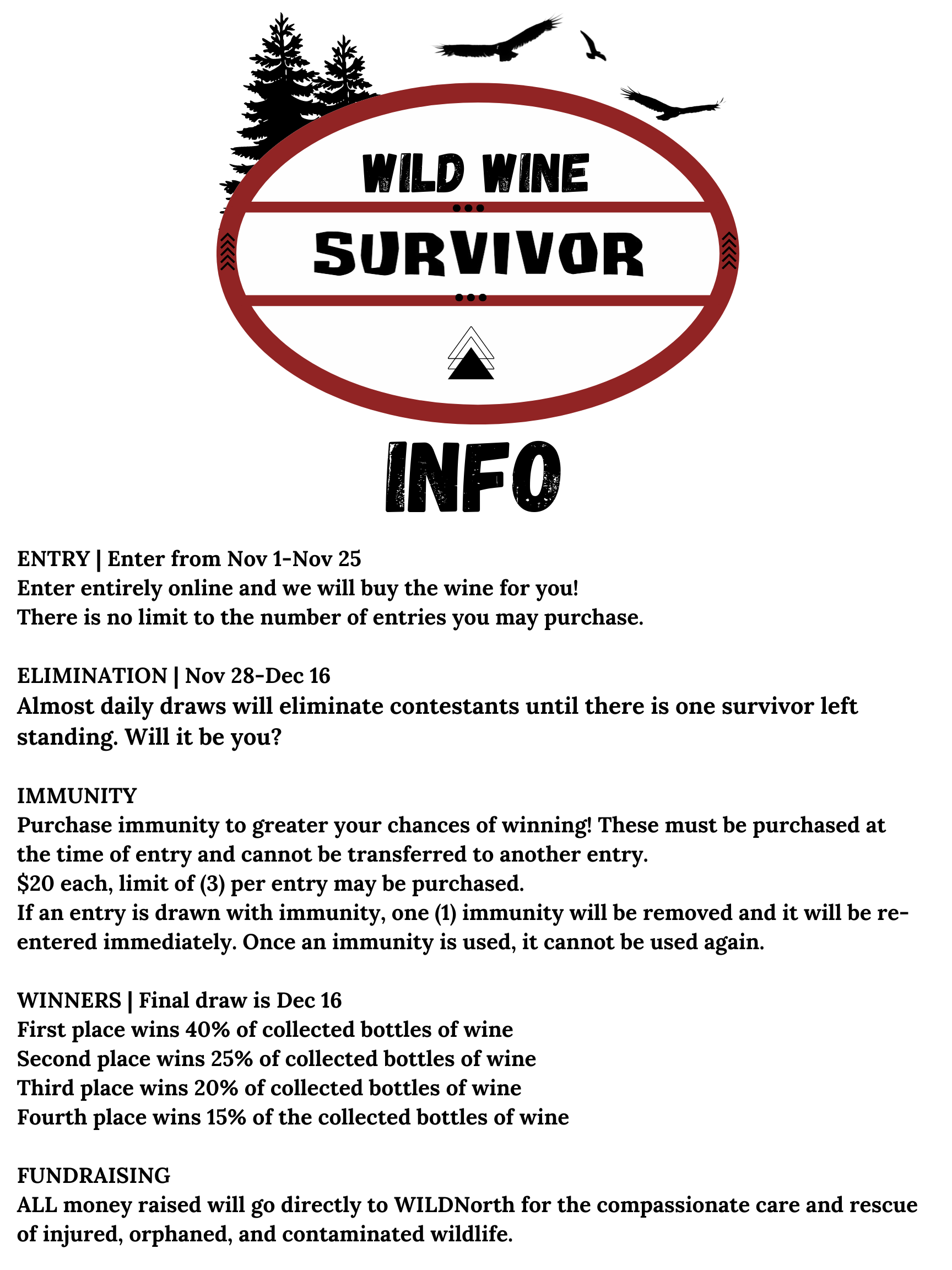 You DO NOT need to drop off a bottle of wine. Wine is included in your entry fee and we will purchase the wine for you.
We will begin drawing names on Nov 28th. In the game of survivor, you don't want your name to be drawn. If your name is drawn, you are out of the game and you are no longer eligible to win the grand prize. Unless, of course, you purchased immunity! In which case your name can be drawn as many times as the number of immunities you purchased. From Nov 28 – Dec 16 we will be drawing names almost daily until a predetermined number of contestants have been eliminated. This will continue until 4 survivors remain! From there, prizes will be determined based on final positions placed. Immunities must be purchased at the time of entry. There is no limit to the amount of times you can enter, but all entries must be purchased before the game starts on November 28th.
Prices are as follows:
Entry + Bottle of Wine: $35.00
Entry + Bottle of Wine + 1 Immunity: $55.00
Entry + Bottle of Wine + 2 Immunities: $75.00
Entry + Bottle of Wine + 3 Immunities: $95.00
Be sure to tune in to our social media accounts (@wildnorthab) where we will be announcing the names drawn that day (aka: those who were eliminated!). We will also be listing all draws on our website.
Draws will begin on November 28th and the final draw will be taking place on December 16th.
The prize distribution is as follows:
First place wins 40% of the collected bottles of wine
Second place wins 25% of the collected bottles of wine
Third place wins 20% of the collected bottles of wine
Fourth places wins 15% of the collected bottles of wine
The top place winner will receive at least $800 worth of curated wine!
So don't forget to encourage your friends to join! The more people who participate, the more wine there will be to win!
Questions? Contact info@wildnorth.ca
*must be 18 years or older to enter
*must be from Alberta
Entry is now closed. 
TO FOLLOW ALONG, CLICK HERE
AGLC Raffle Licence 618017