Welcome to WILDNorth's 2021 WILD Wine Survivor! 
Are you ready to win A LOT of curated wine?!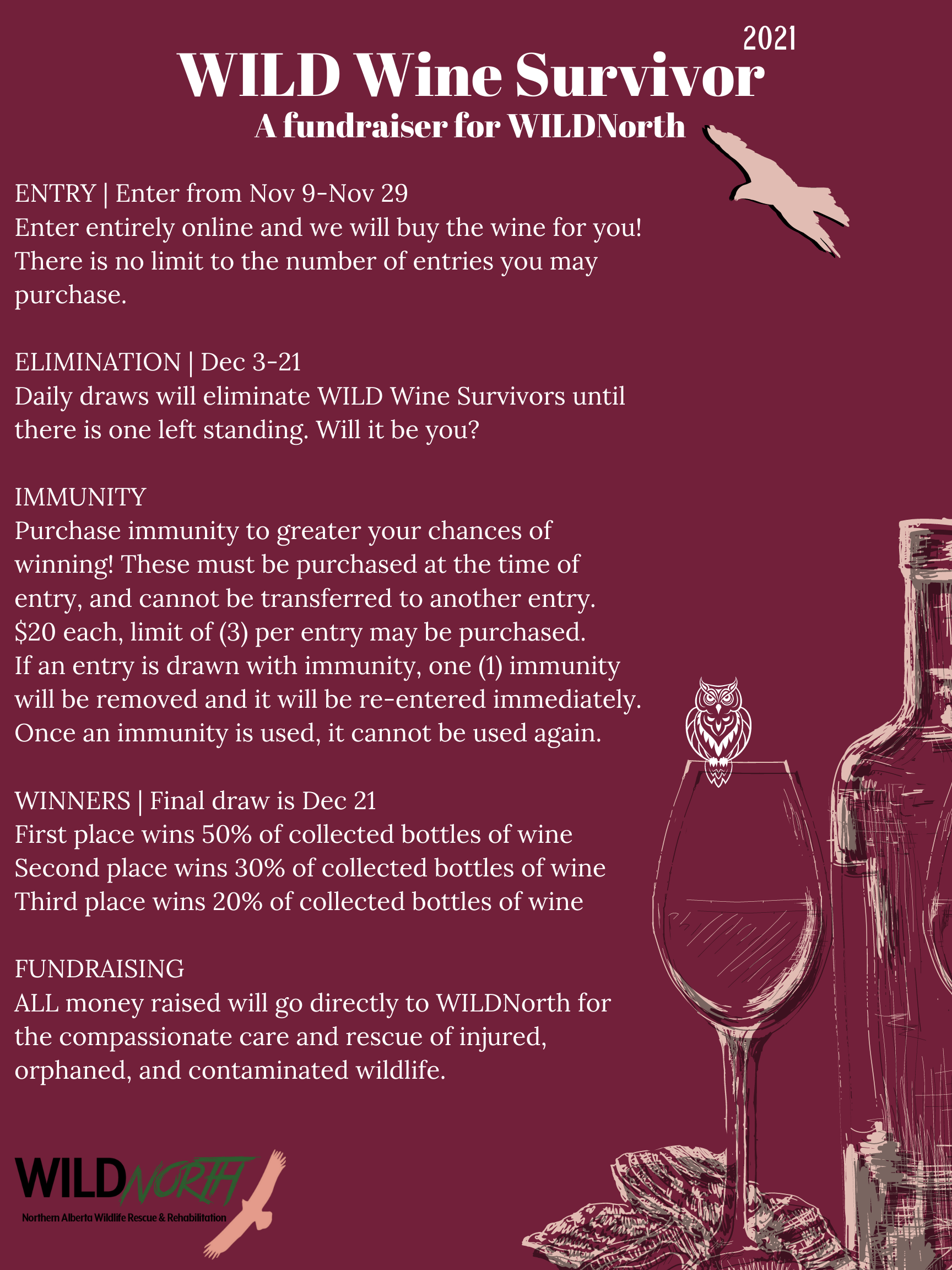 There's no need to go to a liquor store! Due to COVID safety precautions, you DO NOT need to drop off a bottle of wine. In fact, this year, the prize wine bottles have been curated by wine professional, Kathleen Quayle-Thomson! So these wines are bound to taste as good as supporting WILDNorth feels! Some of the bottles are even worth upward of $45!
We will begin drawing names on December 3rd! In the game of survivor, you don't want your name to be drawn. If your name is drawn, you are out of the game and you are no longer eligible to win the grand prize. Unless, of course, you purchased immunity! In which case your name can be drawn as many times as the number of immunities you purchased. Immunities must be purchased at the time of entry. There is no limit to the amount of times you can enter, but all entries must be purchased before the game starts on December 3rd!
Prices are as follows:
Entry + Bottle of Wine: $35.00
Entry + Bottle of Wine + 1 Immunity: $55.00
Entry + Bottle of Wine + 2 Immunities: $75.00
Entry + Bottle of Wine + 3 Immunities: $95.00
Be sure to tune in to our social media accounts (@wildnorthab) where we will be announcing the names drawn that day (aka: those who were eliminated!). We will also be listing all names drawn on our website.
Draws will begin on December 3rd, and the final draw will be taking place on December 21st!
The prize distribution is as follows:
First place wins 50% of the collected bottles of wine
Second place wins 30% of the collected bottles of wine
Third place wins 20% of the collected bottles of wine
The top place winner will receive at least $600 worth of curated wine
So don't forget to encourage your friends to join! The more people who participate, the more wine there will be to win!
Questions? Contact info@wildnorth.ca
*must be 18 years or older to enter
*tickets must be purchased in Alberta
*Entry Is Now Closed. Eliminations Will Begin On Dec. 3rd*
To follow the draws, and to see who has been eliminated, click here 
AGLC Raffle Licence 584394