Junior Wildlife Ambassador Program (JWAP)
– Curriculum-specific presentations for Grades 3, 4, 5, and 6
– For descriptions of the programs, click here.
– FREE for schools in Edmonton thanks to Capital City Cleanup. Click here for information.
– Outside of Edmonton? No problem! Costs associated with these presentations are:
Grade 3: $80.00 + *mileage
Grade 4: $100.00 + *mileage
Grade 5: $100.00 + *mileage
Grade 6: $100.00 + *mileage
E-mail education@wildnorth.ca to inquire
Living With Wildlife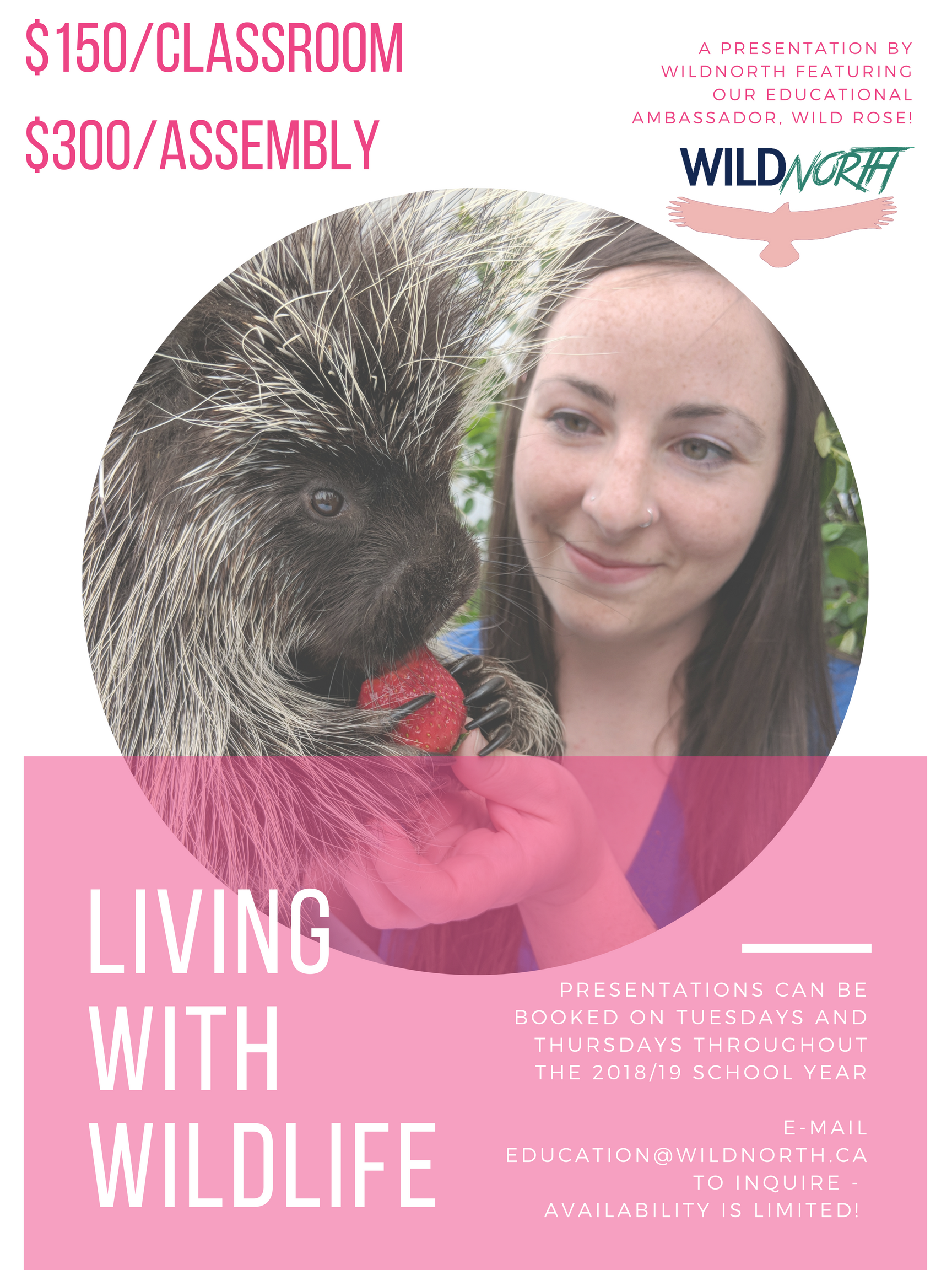 We have an exciting new program for your classroom!
WILDNorth is offering an in-school presentation with a live wild animal ambassador; Wild Rose the Porcupine!
This is a 45 minute presentation about living with the wild animals we share spaces with, and how to be an advocate for wildlife in the community (especially those animals that have a bit of a "bad" reputation!), featuring an educational porcupine.
Participants can have a once in a lifetime opportunity to safely see a porcupine right before their eyes!
Cost:
$150 per classroom or small group (up to 35 participants) + *mileage
$300 per assembly-style or large group (35+ participants) + *mileage
Bookings can be made for Tuesdays and Thursdays
E-mail education@wildnorth.ca to inquire – availability is limited!
** Visits with Wild Rose and exact presentation style are subject to changes based on how she's feeling that day!
Outreach Education Presentations
Standard 30 minute presentation: $80 + *mileage
Standard 60 minute presentation: $100 + *mileage
Custom 30 minute presentation: $100 + *mileage
Custom 60 minute presentation: starting at $120 + *mileage
The pre-designed standard presentation is a general information presentation that discusses wildlife rehabilitation and how the participants can help wildlife in their community. Standard presentations have been designed for each age group!
The custom presentations will be wildlife related, but can be designed to suit the needs of your group! Presentations are PowerPoint based — we do have a projector/screen/laptop we can bring if you do not have them available at your location.
E-mail education@wildnorth.ca to inquire
*Mileage policy
JWAP presentations in Edmonton do not get charged mileage.
Living with Wildlife presentations have an additional charge for mileage when presentations are farther than 40.0 km away from the Wildlife Hospital (12515 128 Street).
Outreach Presentations within 20.0 km of Wildlife Hospital (WH): No addition of mileage
Outreach Presentations from 20.1 – 40.0 km of WH: + $20.00
Outreach Presentations from 40.1 – 60.0 km of WH: + $40.00
Outreach Presentations 60.1 km or more away from WH: Mileage will be calculated on a case by case basis depending on distance