Find our updated openings for Internships, and Careers here!
Wildlife Rehabilitation 
2018 Summer Internship Program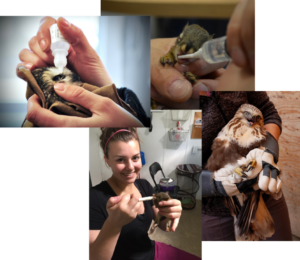 **Now accepting applications**
Our internship structure is as follows:
Time Period: April – September
Hours:  20 or 30 or 40  hours per week                  
Commitment: Minimum 3 months, and can extend to 6 months
Please read below and decide on the time period and role best suited for you.
The following are the Internship periods available:
April – June
May – July
June – August
May/June – September          * special intensive internship focused on raptors and migratory birds, working closely with the Animal Care Managers*
Application Procedure
Follow these instructions precisely otherwise your application will not be accepted.
1. READ the postings, choose the internship role(s) you want and the time period.
2. If you are interested becoming a Wildlife Rescue & Frontline Intern, please FILL in this application form. If you are interested in any of the other intern positions, please FILL in this application form.
3.  Answer ALL QUESTIONS
4. Gather all your curriculum vitae (resume)
5. Respond to the confirmation email with your resume/CV and references.
6. All correspondence MUST be via email.
7. NOTE: You will only be contacted IF you were selected for an interview no later than March 29. Please understand that we are terribly busy. Be patient.
8. DO NOT CALL OUR HOTLINE. This is for wildlife calls ONLY. The internship program coordinator works at another office.
Internship Roles :  below are the roles we offer.
Application deadline is March 29, 2018
*Note, if you are viewing this page on your phone,  scroll to the right for more details about the positions.
| POSITION | CATEGORY | APPLICATION DEADLINE | |
| --- | --- | --- | --- |
| Wildlife Rescue and Frontline Intern | Internship | March 29, 2018 | DETAILS |
| Wildlife Rehabilitation Intern | Internship | March 29, 2018 | DETAILS |
| Wildlife Data Entry Intern | Internship | March 19, 2018 | DETAILS |
| Wildlife Patient Fostering/Release Assistant | Internship | March 19, 2018 | DETAILS |