Have you ever wanted to learn how to get that amazing wildlife shot? Here in Alberta we are lucky enough to share our spaces with so many animals iconic to the Canadian identity. With  professional wildlife photographers, Wolfgang and Julie of JaW Nature Photography Ltd., join us for one of our WILDAdventures Photography experiences. Search for fascinating wildlife, witness amazing Alberta scenery, and learn some tricks of the trade while being responsible stewards of our wildlife!
Community Leagues – Healthy Backyards Program
Besides educating through the Wildlife Hotline, WILDNorth is implementing an education program about living with urban wildlife. The goal of the WILDNorth's Healthy Backyards Program is to empower members of the public with the knowledge necessary to ensure safe interactions with the wildlife that also call Edmonton home. Each individual has a role to play, and they can begin in their own backyards. Healthy backyards lead to healthy communities! No matter what our views on urban wildlife are, we need to challenge ourselves to find new and innovative ways to minimize negative interactions with the wildlife that call our cities home. Education is the first step.
*Each presentation will be customized slightly based on your community!
For inquiries or to book a presentation, please e-mail education@wildnorth.ca
Living With Wildlife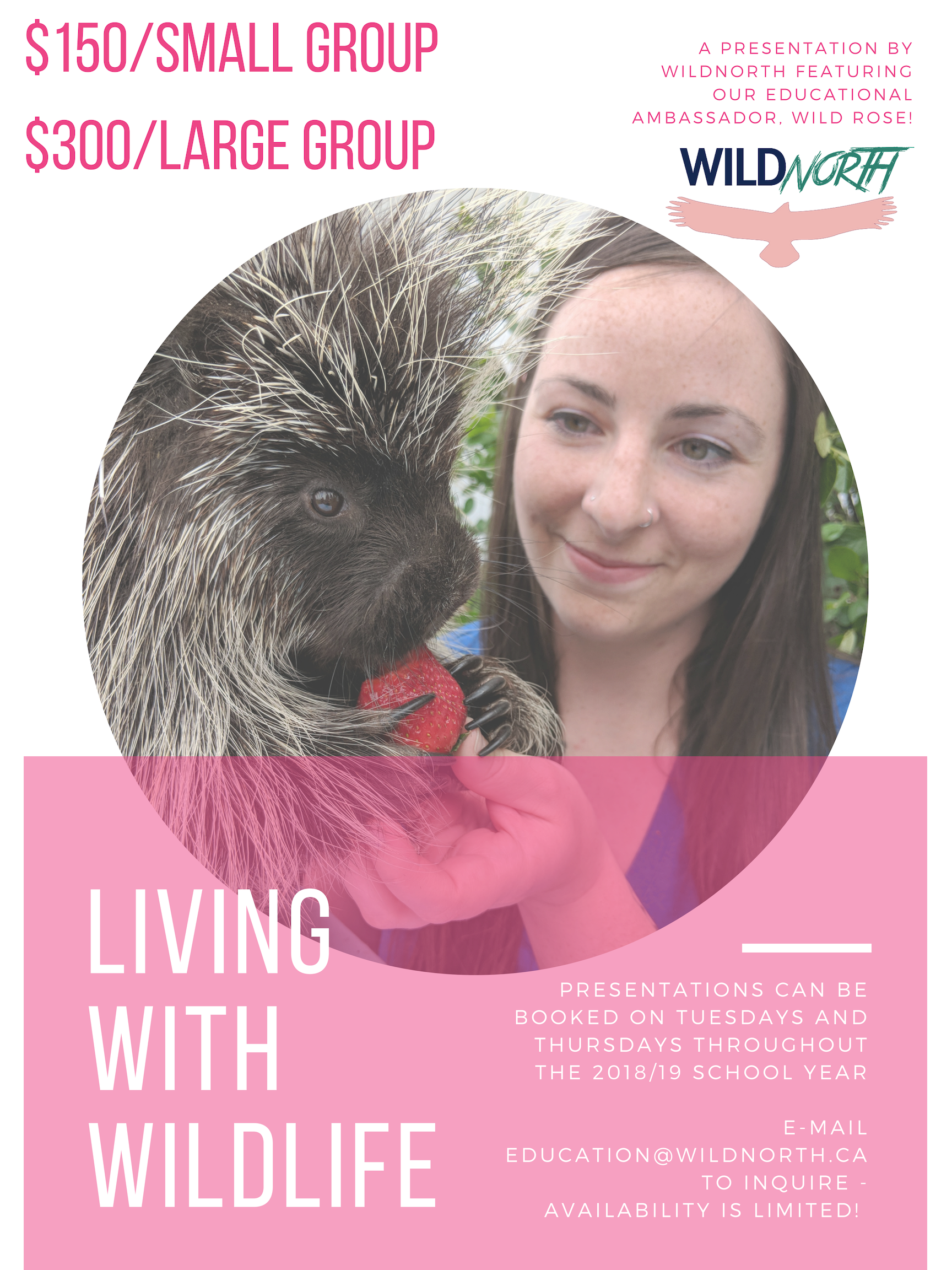 We have an exciting new program!
WILDNorth is offering presentation with a live wild animal ambassador; Wild Rose the Porcupine!
This is a 45 minute presentation about living with the wild animals we share spaces with, and how to be an advocate for wildlife in the community (especially those animals that have a bit of a "bad" reputation!), featuring an educational porcupine.
Participants can have a once in a lifetime opportunity to safely see a porcupine right before their eyes!
Cost:
$150 per classroom or small group (up to 35 participants) + *mileage
$300 per assembly-style or large group (35+ participants) + *mileage
E-mail education@wildnorth.ca to inquire – availability is limited!
** Visits with Wild Rose and exact presentation style are subject to changes based on how she's feeling that day!
NEW
Can't commit to a full presentation with Wild Rose? We're now offering Visits with Wild Rose! Visits are 20 – 30 minutes long (depending on Wild Rose) and will focus on Wild Rose's story, and information about porcupines.
$125 per classroom or small group (up to 35 participants) + * mileage
$250 per assembly-style or large group (35+ participants) + *mileage
*Mileage policy
JWAP presentations in Edmonton do not get charged mileage.
Living with Wildlife presentations have an additional charge for mileage when presentations are farther than 40.0 km away from the Wildlife Hospital (12515 128 Street). There is a limit to how far we will travel with Wild Rose.
Outreach Presentations within 20.0 km of Wildlife Hospital (WH): No addition of mileage
Outreach Presentations from 20.1 – 40.0 km of WH: + $20.00
Outreach Presentations from 40.1 – 60.0 km of WH: + $40.00
Outreach Presentations 60.1 km or more away from WH: Mileage will be calculated on a case by case basis depending on distance