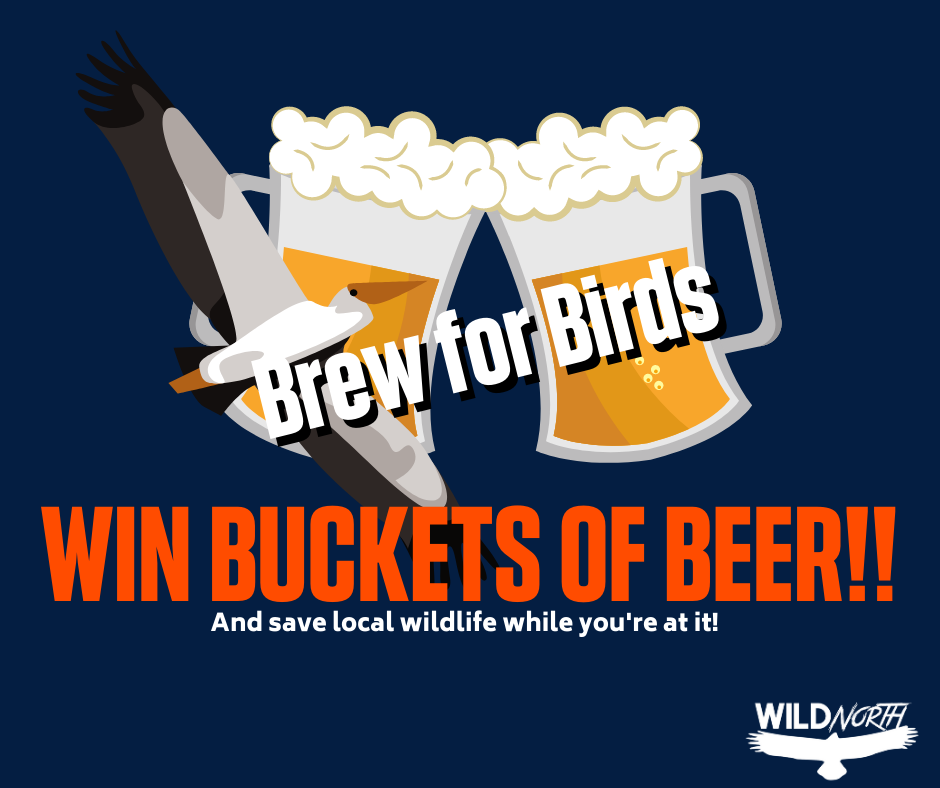 Welcome to

Brew For Birds

! Thank you for participating and supporting the care of northern Alberta's injured and orphaned wildlife!
First place will win at least $500 worth of assorted craft beer!      
* Immunity must be purchased upon entry. A maximum of 3 immunities per entry can be purchased.
* You must be 18 or older to participate
For full contest rules,

click here

. 
Entry is now over. Daily name draws will be listed on this page. Winners will be determined on June 4th.
– June 4th Draw – 3 Survivors Eliminated, 3 Winners Declared!
Ingrid G. (0908113): no immunities left – eliminated
Lisa P. (0908137): used 3 of 3 immunities – still surviving
E.A. P. (0908122): used 3 of 3 immunities – still surviving
E. A. P. (0908122): no immunities left – eliminated
Lisa P. (0908137): no immunities left – eliminated
Linda J. (0908102): no immunities left – eliminated **3RD PLACE 
Crystal H. (0908161): used 3 of 3 immunities – still surviving
Lisa P. (0908135): used 3 of 3 immunities – still surviving
Lisa P. (0908135): no immunities left – eliminated **2ND PLACE 
Crystal H. (0908161): **1st PLACE
– June 3rd Draw – 6 Survivors Eliminated
Laurel C. (0908132): no immunities left – eliminated
Lisa P. (0908136): no immunities left – eliminated
James H. (0908120): no immunities left – eliminated
Ingrid G. (0908113): used 2 of 2 immunities – still surviving
Sylvia M. (0908127): no immunities left – eliminated 
Robyn P. (0908160): no immunities left – eliminated
Terry D. (0908074): no immunities left – eliminated
– June 2nd Draw – 10 Survivors Eliminated
Carly S. (0908075): no immunities left – eliminated
Elizabeth D. (0908130): used 3 of 3 immunities – still surviving
Pierre M. (0908140): no immunities left – eliminated
Angela P. (0908092): no immunities left – eliminated
Sylvia M. (0908127): used 3 of 3 immunities – still surviving
Lisa P. (0908136): used 3 of 3 immunities – still surviving
Linda J. (0908102): used 2 of 3 immunities – still surviving
Matthew H. (0908087): no immunities left – eliminated 
Meredith K. (0908089): no immunities left – eliminated 
Laurel C. (0908132): used 3 of 3 immunities – still surviving
Whitney S. (0908149): used 2 of 2 immunities — still surviving
Linda J. (0908102): used 3 of 3 immunities – still surviving
Ed M. (0908178): no immunities left – eliminated 
Lisa P. (0908135): used 2 of 3 immunities – still surviving
Terry D. (0908074): used 3 of 3 immunities – still surviving
Whitney S. (0908149): no immunities left – eliminated 
Elizabeth D. (0908130): no immunities left – eliminated
E.A. P. (0908121): no immunities left – eliminated
Wendy D. (0908182): no immunities left – eliminated
– June 1st Draw – 15 Survivors Eliminated
Debra O. (0908174): no immunities left – eliminated
Sylvia M. (0908126): no immunities left – eliminated 
Douglas J. (0908123): used 3 of 3 immunities – still surviving
Douglas J. (0908123): no immunities left – eliminated 
Don R. (0908180): no immunities left – eliminated 
Sheila S. (0908094): no immunities left – eliminated
Lisa P. (0908137): used 2 of 3 immunities – still surviving
JEM N. (0908070): no immunities left – eliminated 
Krista H. (0908095): no immunities left – eliminated 
Terry D. (0908074): used 2 of 3 immunities – still surviving
Angela S. (0908072): no immunities left – eliminated 
Donald S. (0908175): used 2 of 2 immunities – still surviving
Sylvia M. (0908127): used 2 of 3 immunities – still surviving
Megan M. (0908114): no immunities left – eliminated 
Robyn P. (0908160): used 1 of 1 immunities – still surviving
Will W. (0908106): used 3 of 3 immunities – still surviving
Heather D. (0908077): no immunities left – eliminated 
Whitney S. (0908149): used 1 of 2 immunities – still surviving
Matthew H. (0908087): used 2 of 3 immunities – still surviving
Lisa P. (0908134): used 3 of 3 immunities – still surviving
Matthew H. (0908087): used 3 of 3 immunities – still surviving
Meredith K. (0908089): used 3 of 3 immunities – still surviving
Donald S. (0908175): no immunities left – eliminated 
Will W. (0908106): no immunities left – eliminated 
Douglas J. (0908124): no immunities left – eliminated 
Karen Z. (0908154): no immunities left – eliminated 
Laurel C. (0908132): used 2 of 3 immunities – still surviving
Lisa P. (0908134): no immunities left – eliminated 
– May 31st Draw – 20 Survivors Eliminated
Heather D. (0908077): used 1 of 1 immunities – still surviving
Karen Z. (0908154): used 2 of 2 immunities – still surviving
David B. (0908181): used 2 of 3 immunities – still surviving
Craig B. (0908156): no immunities left – eliminated 
Janick H. (0908142): no immunities left – eliminated 
Rod H. (0908105): used 2 of 3 immunities – still surviving
David B. (0908181): used 3 of 3 immunities – still surviving
Adele L. (0908111): no immunities left – eliminated 
Tim T. (0908173): no immunities left – eliminated 
Gerald J. (0908165): no immunities left – eliminated
Adam C. (0908168): used 3 of 3 immunities – still surviving
Mike O. (0908157): no immunities left – eliminated 
Karen O. (0908118): used 3 of 3 immunities – still surviving
David B. (0908181): no immunities left – eliminated 
Adam C. (0908168): no immunities left – eliminated 
Kasia B. (0908179): no immunities left – eliminated 
Krista H. (0908095): used 2 of 3 immunities – still surviving
Elizabeth D. (0908130): used 2 of 3 immunities – still surviving
Sarah M. (0908098): no immunities left – eliminated 
Angela S. (0908073): used 2 of 2 immunities – still surviving
Liz W. (0908171): no immunities left – eliminated 
Lisa T. (0908081): no immunities left – eliminated 
Rod H. (0908105): used 3 of 3 immunities – still surviving
Angela S. (0908073): no immunities left – eliminated 
Shane C. (0908084): used 2 of 2 immunities – still surviving
Megan G. (0908146): no immunities – eliminated 
Shane C. (0908084): no immunities left – eliminated 
Lisa P. (0908136): used 2 of 3 immunities – still surviving
JEM N. (0908070): used 1 of 1 immunities – still surviving
Douglas J. (0908123): used 2 of 3 immunities – still surviving
Rod H. (0908105): no immunities left – eliminated 
Jeri F. (0908112): used 2 of 2 immunities – still surviving
Krista H. (0908095): used 3 of 3 immunities – still surviving
Kevin B. (0908078): used 3 of 3 immunities – still surviving
Jeri F. (0908112): no immunities left – eliminated 
Kevin B. (0908078): no immunities left – eliminated 
Karen O. (0908118): no immunities left – eliminated 
Liza P. (0908152): no immunities left – eliminated 
– May 28th Draw – 20 Survivors Eliminated
Gordon H. (0908133): no immunities left – eliminated 
Lisa A. (0908162): used 2 of 2 immunities – still surviving
Meredith K. (0908089): used 2 of 3 immunities – still surviving
Mike O. (0908158): used 2 of 2 immunities – still surviving
Tereasa D. (0908080): used 2 of 2 immunities – still surviving
Kevin B. 0908078: used 1 of 3 immunities – still surviving
Christal M. (0908139): no immunities left – eliminated 
Marina T. (0908093): no immunities left – eliminated 
Douglas J. (0908124): used 3 of 3 immunities – still surviving
Liz W. (0908171): used 2 of 2 immunities – still surviving
Elizabeth D. (0908130): used 1 of 3 immunities – still surviving
Kasia B. (0908179): used 3 of 3 immunities – still surviving
Rod H. (0908105): used 1 of 3 immunities – still surviving
E.A. P. (0908122): used 2 of 3 immunities – still surviving
Janick H. (0908142): used 2 of 2 immunities – still surviving
Liza B. (0908151): used 1 of 3 immunities – still surviving
Angela P. (0908092): used 2 of 3 immunities – still surviving
Michelle B. (0908125): used 3 of 3 immunities – still surviving
Ray B. (0908166): no immunities left – eliminated 
Liza B. (0908151): used 2 of 3 immunities – still surviving
Tereasa D. (0908080): no immunities left – eliminated 
Gerald J. (0908165): used 2 of 3 immunities – still surviving
Liza B. (0908151): used 3 of 3 immunities – still surviving
Elsa R. (0908116): used 1 of 1 immunities – still surviving
Elsa R. (0908116): no immunities left – eliminated 
Angela S. (0908073): used 1 of 2 immunities – still surviving
Martin P. (0908119): no immunities left – eliminated 
Walter C. (0908099): no immunities left – eliminated
Liza B. (0908151): no immunities left – eliminated 
Shane C. (0908084): used 1 of 2 immunities – still surviving
James S. (0908145): used 3 of 3 immunities – still surviving
Judy W. (0908101): no immunities left – eliminated
Kevin B. (0908078): used 2 of 3 immunities – still surviving
Angela S. (0908072): used 1 of 2 immunities – still surviving
Lisa T. (0908081): used 2 of 3 immunities – still surviving
Mike O. (0908157): used 1 of 2 immunities – still surviving
Tim T. (0908173): used 1 of 1 immunities – still surviving
James H. (0908120): used 2 of 3 immunities – still surviving
Michelle B. (0908125): no immunities left – eliminated 
Sylvia M. (0908127): used 1 o 3 immunities – still surviving
Debra O. (0908174): used 3 of 3 immunities – still surviving
James H. (0908120): used 3 of 3 immunities – still surviving
Mike O. (0908158): no immunities left – eliminated 
James S. (0908145): no immunities left – eliminated 
Sylvia M. (0908126): used 2 of 3 immunities – still surviving
Douglas H. (0908153): no immunities left – eliminated
Angela P. (0908092): used 3 of 3 immunities – still surviving
Liza B. (0908152): used 3 of 3 immunities – still surviving
Ira M. (0908117): no immunities left – eliminated 
Doug H. (0908085): used 2 of 3 immunities – still surviving
Brendan C. (0908115): no immunities left – eliminated 
Gerald J. (0908165): used 3 of 3 immunities – still surviving
E.A. P. (0908121): used 3 of 3 immunities – still surviving
Don R. (0908180): used 1 of 1 immunities – still surviving
Sylvia M. (0908126): used 3 of 3 immunities – still surviving
Ed M. (0908178): used 1 of 1 immunities – still surviving
Lisa T. (0908081): used 3 of 3 immunities – still surviving
Doug H. (0908085): used 3 of 3 immunities – still surviving
Charles S. (0908088): no immunities – eliminated
Will W. (0908106): used 2  of 3 immunities – still surviving
Heather H. (0908147): no immunities left – eliminated
Mike O. (0908157): used 2 of 2 immunities – still surviving
Angela S. (0908072): used 2 of 2 immunities – still surviving
Donald S. (0908175): used 1 of 2 immunities – still surviving
Lisa A. (0908162): no immunities left – eliminated 
Doug H. (0908085): no immunities left – eliminated

– May 27th Draw – 5 Survivors Eliminated
Kathy K. (0908097): used 3 of 3 immunities – still surviving
Linda J. (0908102): used 1 of 3 immunities – still surviving
Andrea B. (0908170): no immunities left – eliminated 
Michelle B. (0908125): used 2 of 3 immunities – still surviving
Janick H. (0908142): used 1 of 2 immunities – still surviving
Joanne H. (0908076): no immunities left – eliminated 
Judy W. (0908101): used 1 f 1 immunities – still surviving
David B. (0908181): used 1 of 1 immunities – still surviving
Debra O. (0908174): used 2 of 3 immunities – still surviving
Gordon H. (0908133): used 3 of 3 immunities – still surviving
Doug H. (0908085): used 1 of 3 immunities – still surviving
Megan M. (0908114): used 1 of 1 immunities – still surviving
E.A. P. (0908121): used 2 of 3 immunities – still surviving
Jeri F. (0908112): used 1 of 2 immunities – still surviving
Will W. (0908106): used 1 of 3 immunities – still surviving
Meredith K. (0908089): used 1 of 3 immunities – still surviving
Carly S. (0908075): used 1 of 1 immunities – still surviving
Lisa P. (0908137): used 1 of 3 immunities – still surviving
Kathy K. (0908097): no immunities left – eliminated 
Wendy D. (0908182): used 1 of 1 immunities – still surviving
Angel P. (0908092): used 1 of 3 immunities – still surviving
Douglas J. (0908124): used 2 of 3 immunities – still surviving
Deborah H. (0908109): no immunities – eliminated
Krista H. (0908095): used 1 of 3 immunities – still surviving
Mike O. (0908158): used 1 of 2 immunities – still surviving
Laurel C. (0908132): used 1 of 3 immunities – still surviving
Martin P. (0908119): used 1 of 1 immunities – still surviving
Gerald J. (0908165): used 1 of 3 immunities – still surviving
Lisa A. (0908162): used 1 of 2 immunities – still surviving
Lucie G. (0908141): no immunities left – eliminated 
– May 26th Draw – 15 Survivors Eliminated
Debra O. (0908174): used 1 of 3 immunities – still surviving
Sylvia M. (0908126): used 1 of 3 immunities – still surviving
Sarah M. (0908098): used 2 of 3 immunities – still surviving
Kathy K. (0908097): used 1 of 3 immunities – still surviving
Sheila S. (0908094): used 3 of 3 immunities – still surviving
James S. (0908145): used 2 of 3 immunities – still surviving
Garry B. (0908143): no immunities – eliminated 
Gordan H. (0908133): used 2 of 3 immunities – still surviving
Carla H. (0908100): no immunities left – eliminated 
Larissa Z. (0908091): no immunities left – eliminated 
Jenna B. (0908107): used 1 of 1 immunities – still surviving
Liz W. (0908171): used 1 of 2 immunities – still surviving
Douglas H. (0908153): used 3 of 3 immunities – still surviving
Donna K. (0908128): no immunities left – eliminated 
Roland K. (090817): no immunities left – eliminated 
Margaret P. (0908159): no immunities left – eliminated 
Liza B. (0908152): used 1 of 3 immunities – still surviving
Kathy K. (0908097): used 2 of 3 immunities – still surviving
Lisa T. (0908081): used 1 of 3 immunities – still surviving
Kasia B. (0908179): used 1 of 3 immunities – still surviving
Rebecca W. (0908148): no immunities – eliminated 
Ed D. (0908163): no immunities – eliminated 
Toby-Anne R. (0908172): used 1 of 1 immunities – still surviving
Darlene F. (0908129): used 1 of 1 immunities – still surviving
Jenna B. (0908107): no immunities left – eliminated 
Dustin M. (0908103): no immunities – eliminated
Kasia B. (0908179): used 2 of 3 immunities – still surviving
Toby-Anne R. (0908172): no immunities left – eliminated 
Walter C. (0908099): used 2 of 2 immunities – still surviving
Darlene F. (090819): no immunities let – eliminated 
Christal M. (0908139): used 1 of 1 immunities – still surviving
Lisa H. (0908071): no immunities left – eliminated 
Ira M. (0908117): used 3 of 3 immunities – still surviving
Andrea B. (0908170): used 3 of 3 immunities – still surviving
Ed D. (0908164): no immunities – eliminated 
Liza B. (0908152): used 2 of 3 immunities – still surviving
Liza P. (0908134): used 2 of 3 immunities – still surviving
Janet B. (0908079): no immunities – eliminated 
– May 25th Draw – 10 Survivors Eliminated 
Craig B. (0908156): used 1 of 1 immunities – still surviving
Alison H. (0908104): no immunities – eliminated 
Thomas M. (0908150): no immunities left – eliminated 
Walter C. (0908099): used 1 of 1 immunities – still surviving
Roxanne P. (0908177): no immunities – eliminated 
Adam C. (0908168): used 2 of  immunities – still surviving
Matthew H. (0908086): no immunities – eliminated 
Andrea B. (0908170): used 1 of 3 immunities – still surviving
Larissa Z. (0908091): used 1 of 1 immunities  – still surviving
Heather H. (0908147): used 1 of 1 immunities  – still surviving
Michelle B. (0908125): used 1 of 3 immunities – still surviving
Leanne C. (0908131): no immunities – eliminated 
Garry B. (0908144): ): no immunities – eliminated 
Christal M. (0908140): used 1 of 1 immunities – still surviving
Sheila S. (0908094): used 1 of 3 immunities – still surviving
Gordon H. (0908133): used 1 of 3 immunities  – still surviving
James S. (0908145): used 1 of 3 immunities  – still surviving
Ray B. (0908166): used 2 of 2 immunities  – still surviving
Douglas J. (0908124): used 1 of 3 immunities  – still surviving
James H. (0908120): used 1 of 3 immunities  – still surviving
Sarah M. (0908098): used 1 of 2 immunities  – still surviving
Crystal H. (0908161): used 2 of 3 immunities  – still surviving
Adele L. (0908111): used 1 of 1 immunities  – still surviving
Lisa H. (0908071): used 1 of 1 immunities  – still surviving
Peggy M. (0908096): no immunities – eliminated 
Thomas L. (0908083): no immunities – eliminated 
Douglas H. (0908153): used 1 of 3 immunities  – still surviving
Joanne H. (0908760: used 1 of 1 immunities  – still surviving
Sheila S. (0908094): used 2 of 3 immunities – still surviving
Tereasa D. (0908080): used 1 of 2 immunities  – still surviving
Douglas J. (0908123): used 1 of 3 immunities  – still surviving
Ingrid G. (0908113): used 1 of 2 immunities  – still surviving
Andrea B. (090870): used 2 of 3 immunities  – still surviving
Lisa P. (0908136): used 1 of 3 immunities  – still surviving
Donna K. (0908128): used 1 of 1 immunities  – still surviving
E.A. P. (0908121): used 1 of 3 immunities  – still surviving
Terry D. (0908074): used 1 of 3 immunities  – still surviving
Karen Z. (0908154): used 1 of 2 immunities  – still surviving
Kathy F. (0908169): no immunities left – eliminated 
Lucie G. (0908141): used 1 of 1 immunities  – still surviving
Douglas H. (0908153): used 2 of 3 immunities  – still surviving
Janet S. (0908155): no immunities – eliminated 
– May 24th Draw – 5 Survivors Eliminated
Karen O. (#0908118): used 1 of 3 immunities – still surviving
Ira M. (#0908117): used 1 of 3 immunities – still surviving
Lisa T. (#0908138): no immunities – eliminated
Carla H. (#0908100): used 1 of 1 immunities – still surviving
Kathy F. (#0908169): used 1 of 1 immunities – still surviving
E.A. P. (#0908122): used 1 of 3 immunities – still surviving
Margaret P. (#0908159): used 1 of 1 immunities – still surviving
Ira M. (#0908117): used 2 of 3 immunities – still surviving
Deborah H. (#0908108): no immunities – eliminated 
Jordan H. (#0908082): no immunities – eliminated 
Brendan C. (#908115): used 1 of 1 immunities – still surviving
Matthew H. (#908087): used 1 of 3 immunities – still surviving
Vivian B. (#0908909): no immunities – eliminated 
Thomas M. (#0908150): used 1 of 2 immunities – still surviving
Crystal H. (#0908161): used 1 of 3 immunities – still surviving
Thomas M. (#0908150): used 2 of 2 immunities – still surviving
Ray B. (#0908166): used 1 of 2 immunities – still surviving
Adam C. (#0908168): used 1 of 3 immunities – still surviving
Karen O. (#0908118): used 2 of 3 immunities – still surviving
Lisa P. (#0908135): used 1 of 3 immunities – still surviving
Lisa P. (#0908134): used 1 of 3 immunities – still surviving
Darryl M. (#0908167): no immunities – eliminated