April 10, 2018 | Events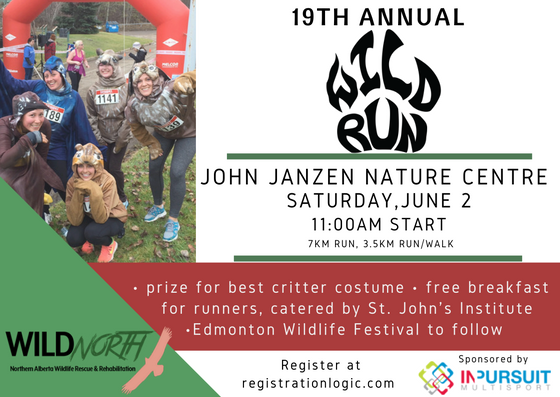 Join us for the 19th annual WILDRun (formerly known as the Run Wild for Wildlife) on Saturday, June 2nd, 2018 at 11am! The WILDRun is a fun run whereby registrants have the opportunity to make a difference in the lives of wildlife by raising pledges and participating in the 7k run, or 3.5k run/walk at the John Janzen Nature Centre. Included in your registration is breakfast (starting at 9am) catered by St. John's Institute (also available for purchase by non-registrants), awards, and prizes. Dress up as your favorite wild animal to enter the Best Critter Costume Contest! Other costumes are also encouraged. Come early or stick around after the WILDRun and enjoy the Edmonton Wildlife Festival!
***T-Shirt guaranteed to those who register by May 27th
***School Groups*** Registration is free for school groups (plus up to 5 free chaperones). Raise $300 or more in donations and the class will all get T-Shirts. The class team that raises the most pledges will receive a free educational presentation featuring a live animal ambassador.
To register, click here.