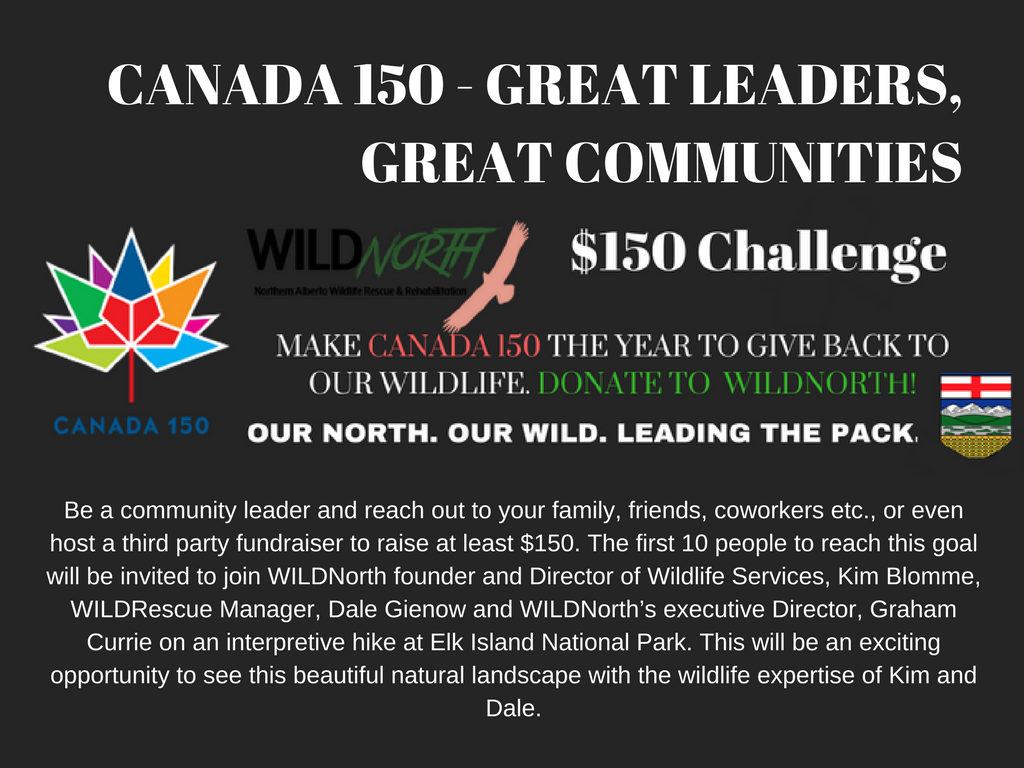 We are asking participants to reach out to their family, friends, coworkers etc., or even host a third party fundraiser to raise at least $150/ea. The first 10 people to reach this goal will be invited to join WILDNorth founder and Director of Wildlife Services, Kim Blomme, WILDRescue Manager, Dale Gienow, and WILDNorth's executive Director, 
Graham
 Currie on an interpretive hike at Elk Island National Park. This will be an exciting opportunity to see this beautiful natural landscape with the wildlife expertise of Kim and Dale.
Also, the top 3 individuals who have raised the most money with our "Great Leaders, Great Communities" $150 challenge by the end of the campaign (December 31st, 2017) will receive prizes and recognition for their leadership.
If you submit funds through our standard online donation channel, please email 
info@wildnorth.ca
 with "$150 Challenge" in the subject line and include in the body of the text, the name the donation was made under, the date of the donation, and amount of the donation. This will allow us to accurately track your campaign activities. Otherwise, donations can be made in person, citing the "$150 Challenge".
We are excited to see how many of you take up this challenge. If you have any questions about about the donor campaign or have questions about third party fundraising protocol, ideas, branding materials, etc, please email 
info@wildnorh.ca
.
OUR NORTH. OUR WILD. LEADING THE PACK!