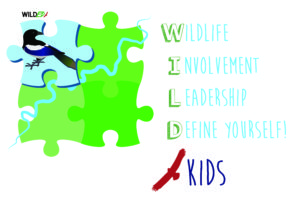 Give your children the opportunity to become involved in their community,
to develop leadership skills, and to define themselves as WILDKids!
WILD Kids Club
WILD Kids Club welcomes students in grades 4-6 to delve deeper into the world of wildlife! WILD Kids Club offers unique programming that furthers an appreciation and knowledge of wildlife, while fostering leadership skills and empowering the kids to be responsible stewards of the environment. Participants will get inside access to the world of wildlife rehabilitation and have wildlife encounters (with education animals, wildlife spotting on nature walks, etc.)! The programming also focuses on getting out and enjoying nature no matter the season, with outdoor pursuits and activities once per month. Activities are designed to benefit both the academic and social development of children, and engage kids and families about the importance of wildlife in the community.
Fall Session
*$200 per child, family must have valid 2017/2018 membership from an Edmonton Community League. If you do not have a community league, child/family can get a membership from the Ridgewood Community League
Thursday evenings from 6:00 pm – 8:00 pm
October 12, 2017 – December 21, 2017
Ridgewood Community League Hall
Winter/Spring Session
*$200 per child, family must have valid 2017/2018 membership from an Edmonton Community League. If you do not have a community league, child/family can get a membership from the Ridgewood Community League
Details to be announced
Both Sessions (Fall and Winter/Spring Sessions)
*$350 per child, family must have valid 2017/2018 membership from an Edmonton Community League. If you do not have a community league, child/family can get a membership from the Ridgewood Community League
Pay here — you will receive a registration package after payment
*We are having trouble with our confirmation e-mail system — if you do not receive a confirmation e-mail within 48 hours after payment, please e-mail Carly at education@wildnorth.ca
For inquiries, please e-mail education@wildnorth.ca